"MY INSPIRATIONS ARE DRAWN FROM THE REFLECTION OF SELF EXPERIENCE AND EMOTIVE SENSES. MY WORK IS AN EVOLVING JOURNEY, EACH PAINTING REPRESENTING FEELINGS AND STATES OF BEING."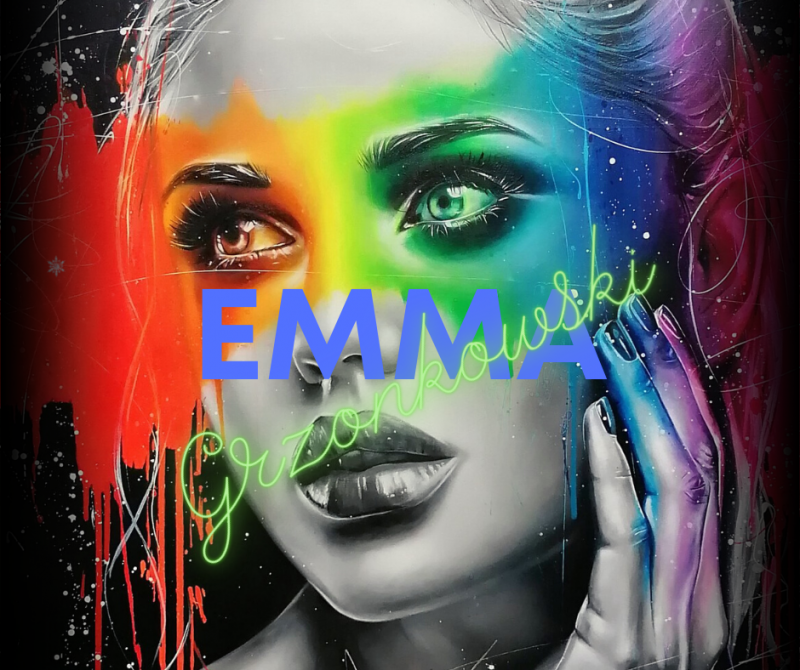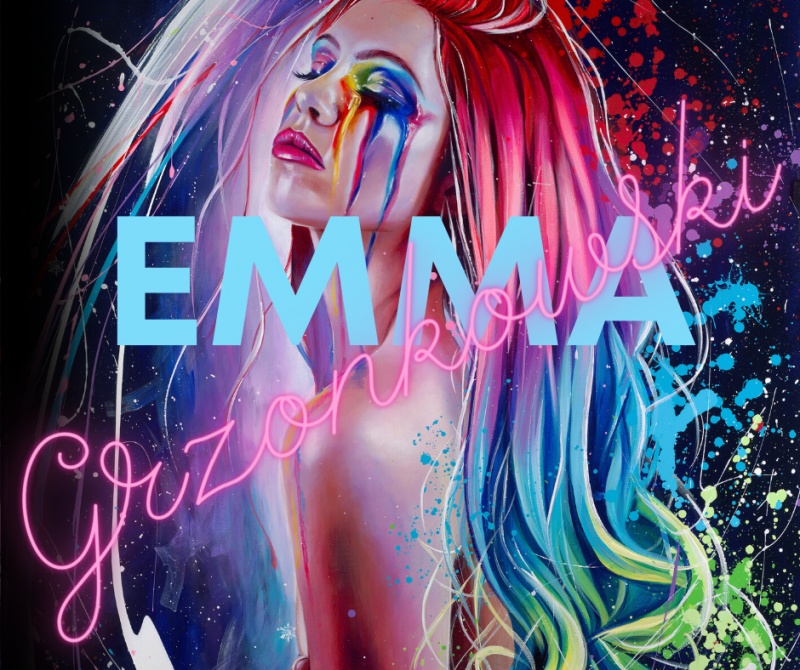 Emma Grzonkowski was brought up in a beautiful part of Cheshire where she spent hours endlessly lost in her own playful imagination, drawing and painting from 'as young as she can remember being able to hold a pencil ' Emma states. It was clear to Emma's mother and father that she had a natural talent for art and it was something which was part of her 'being' and this need for her to create was always within her. They encouraged her to harness this love for art and her father, in particular, played a pivotal role, being creative himself encouraging Emma to thrive with her noticeably creative talents. Steven Grzonkowski, would often spend hours drawing pictures himself for Emma to copy. To which she would stick these drawings on her bedroom wall and would practice her own versions of them relentlessly until she got it just right. Emma continued to express her love for art through primary school and into secondary school and throughout it was clear to her teachers and her peers that she excelled in this field. So much so that in the subjects which she didn't particularly like such as Maths and Science she would spend the time in class drawing on the front of her exercise books instead.
'I used to find myself doodling in my class books without me even realising and before I knew it I was being asked a question and I had no idea what was going on' Emma completed secondary school with the highest grade possible for Art and then went on to pursue Art and Design at Sir John Deans College. She undertook Theatre Studies, Media Studies and GCSE Maths (since she had spent so much time doodling in her lessons!). It was clear at this stage that even though Emma was interested in these subjects, as they mostly had a creative element to them, that she was still entirely focussed on art. She soon started to skip lessons to spend most of her time in the art room. This time at college was pivotal for Emma for a few reasons. Her teacher Andy Marshall was an excellent teacher and from his teachings, she learnt the fundamental rules to construct a painting. She was taught various techniques which allowed her to grow as a young artist with knowledge from studying the Great Masters of art such as Francis Bacon and Rembrandt among others. Throughout this time she also fell head over heels in love which led her to experience a few years in absolute bliss. Once finishing College, with an A* in Art she went on to study Fine Art and Graphic Design at The University of Chester. Through the first year of university, Emma felt quite uneasy being left to her own devices since she had such intensive tuition throughout College. Within the second year at university disaster struck when tragically she lost her boyfriend in a car accident. In absolute devastation, Emma turned to the only thing she felt would help to take away the pain, which was painting. She found her self putting all of her emotions into her artwork as a form of release and she would spend endless hours in the studio pouring her soul onto the canvas. From this terrible tragedy, she had now found her expressive style which she still uses today. She started to use herself within her work, painting self-portraits, which were often very raw and dark and which ran in parallel to her emotions.
Determined to finish her degree and to make her late boyfriend proud, Emma ploughed on and created a body of work which was uniquely soulful and authentic. It was at this time that she decided that she wanted to be a professional artist, which was the defining moment of things to follow.Soon after this moment, Emma walked into Castle Fine Art in Chester and she showed the gallery her work. The Gallery Manager soon took an interest and then presented her artwork to the owners of Washington Green Fine Art. To Emma's amazement, in no matter of time, she was stood in front of her work talking to Glyn Washington the 'Washington' of Washington Green. He saw Emma's passion for art and instantly connected, although realised that it was still very raw and in need of development. She went on to sign a pre-agreement contract to which she would create a body of 25 paintings for an exhibition in a years time. She produced these paintings within her final year of university balancing her degree at the same time. In November 2009 Emma graduated from university and within the same month, she had her debut solo exhibition hosted by Castle Fine Art. The event was a sell-out show and on the basis of this, she was soon signed to the Washington Green Fine Art label. The biggest art publishers in Europe. Emma went on to exhibit across the UK, gaining many followers and collectors who seemed to connect to Emma's work on an emotional level. She also had numerous of her paintings published as limited edition print.
Emma continued to channel her emotions from the darkest of places heading towards the light and her collectors followed her on this emotional journey with great empathy and love for her creative expressionism. Throughout this time Emma's life was a complete whirlwind rollercoaster, personally and professionally. With her facing many battles, heartbreaks and mental health issues along the way. With her artwork almost being an open diary to her life for 8 years after being signed. Music has always been an inspiring element throughout Emma's process, with it being the driving force to channel her emotions and well being. In 2017 Emma made a connection with Spotify's UK Editor at the time Austin Daboh who happened to be a collector of Emma's work. She was then presented with the prospect of producing a commissioned piece of art for global music Giants Spotify. Thrilled to be able to combine music and art together within her work and for such a profound company, she went on to produce an electric piece of artwork which fused Grime/Hip hop with Art.
This painting was produced to commemorate Spotify's debut event at Alexandra Palace which headlined Dizzie Rascal and also hosted Cardi B, J Hus, Stefflon don, Giggs and Bugzy Malone. Throughout producing this piece of artwork, Emma channelled the energy of this particular music to her painting by listening to it on repeat in her studio and 'feeling' it. An act which she was particularly inspired by was Bugzy Malone as she struck a connection through his deep lyrics and emotion. Emma was then thrilled to be able to present this piece of artwork to Bugzy Malone himself ahead of the event.In 2018 Emma landed her biggest exhibition to date at Manchester Castle Fine Art. The King Street gallery hosted a collection of work entitled 'EDEN' which was inspired by Emma being in a happier state of mind. She wanted to covey an idealistic world which looked and felt heavenly. "I am in a much brighter place than I have been with previous works' Emma revealed, 'Whilst in the past I have centred on overcoming trauma, these female figures exude a sense of happiness and peace." This essence of peace was perhaps unseen until this collection, which provided viewers with a different overall feeling and displayed her growth as a person and an artist. "It's about seeing into the future and laying the past to rest" This feeling of empowerment and hope for the future which was featured within the artwork now paralleled Emma's own desire to pursue creating artwork under her own name 'GRZ FINE ART'.
In July 2019 Emma began her journey working independently for the first time away from a publisher since she was 21. This was a brave move for Emma but she felt it was essential move to make in order to grow as an artist. 2020 has not only seen the release of her on collections, but the Exclusive Release for Portfolio Fine Art with the Rainbow Collection, limited edition on glass and hand embellished by Emma herself with exceptionally low edition sizes.