Renowned Cityscape artist Neil Dawson takes a different slant with his new collection
"Main Street
America" as Route 66 is known in the USA. Neil perfectly captures all aspects of the Mother Road - the
vast empty skies and open landscapes, Americana and art deco, motels, shops and period cars.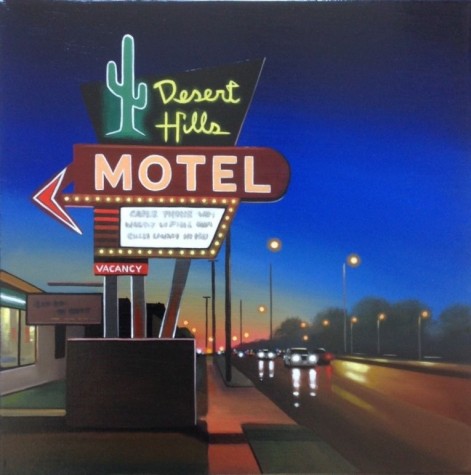 The Mother Road is the epitome of the American dream - the desire to head west to seek fame and
fortune - be that in the gold fields, on the silver screen, or just making it big in California - is deeply
ingrained in the American psysche. Formally adopted as Route 66 in 1926, in the words of Chuck Berry,
"it winds from Chicago to LA - over 2,000 miles along the way" - the very words conjure up visions of the
open road, big landscapes and empty skies.
Linking old America with the promised land of the west
coast and running through eight states, linking big cities and small towns - Route 66 had its heyday in the
1950's and 60's. Motels, bars and restaurants, gas stations and food stores sprang up all along the way to
supply the long distance travellers, tourists, bikers and truckers.
This road, which stars in many songs and
features in movies and TV shows, has inspired artists to this day.
Since these glory days, the fortunes of Route 66 have waned - Interstate Highways have replaced the old
two lane road in most places and the towns and truck stops that once thrived have declined - in many
cases they have totally disappeared. Luckily however there are still many places where glimpses of the old Route 66 can be
seen…..the old motels, neon signs, gaudy stores and gleaming gas stations hark back to the golden era
of road travel.
Neil says "I've always been attracted by the spirit of America, and the free and easy feeling of travelling
on the open road. The images of Route 66 are many and varied and I really enjoyed putting them on
paper and canvas for you to enjoy."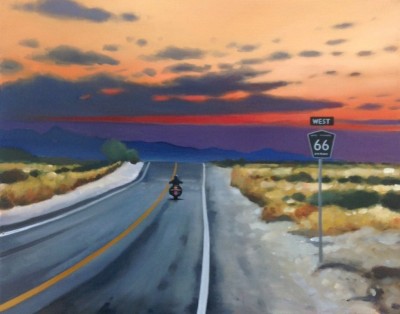 This is a print collection but the Originals are available. Make sure you mosey over to your nearest gallery as soon as you can - these fabulous pieces won't be "standing on the corner at Winslow Arizona" for very long!